Our mission
We want to give everyone the opportunity of learning to play an instrument
Cleffy's team
There are moments of our lives, seasons, festivals, anniversaries or even people that we associate with one or more songs, with a rhythm or a melody. Music has always been one of the arts through which we express thoughts and emotions.
As with all arts, it can stir within us the desire to produce the means with which to create something new. For many, that is exactly what it means to play an instrument. Many, however, encounter practical problems which prevent them from having this experience.
The problem
Taking music classes in school or private lessons are typically very expensive solutions that not everyone can afford.
In addition, those who can, must face the problems of scheduled time for lessons, because maybe they are incompatible with their work and family commitments.
Beyond that, to face the hurdle of the initial lessons, the most difficult and complicated, is another aspect that frequently leads to the abandonment of these studies.
Live music through an instrument should not be so stressing.
Cleffy
Listening to music is an act so natural and fulfilling, why doing it should be different?
Cleffy is the web platform that resolves all of these problems!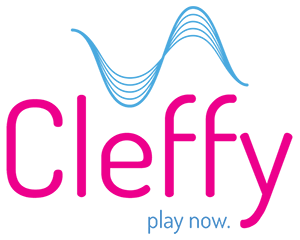 You will be able to learn to play with complete freedom, in your own time and in a simple and interactive way. Like a true and proper music tutor, Cleffy will explain the lesson to you and will present you with exercises which to verify the effectiveness of your learning. It will understand your weaknesses and will council you on how to overcome the eventual difficulties.
The teacher will speak, listen and show on screen all the information needed to improve your learning so you can achieve excellent results.
How it works?
It works in a simple Web browser, there's no need for cables or additional hardware. Just the microphone of your PC, tablet, or smartphone.
Turn on the microphone and start playing

Login into Cleffy and your virtual teacher will talk to you, explaining what to do and listening to you too! It will understand where and when you are making a mistake, it will understand your weaknesses and help you overcoming them all successfully, just like a real teacher!
A new way of learning

Every single lesson is interactive and funny! You will play your favourite songs, exercising with melodies of your favourite artists. You can compete and challenge your friends!
Right away, Cleffy's way of learning will allow you to achieve results you can't even imagine. Whether you want to learn just a song or become the new Jimi Hendrix, Cleffy will create a precise course just for you! Go and reach your goal! A three-month Cleffy course is better than a traditional full-year course!
When and Wherever you want
You decide the pace of every lesson, when and for how long you want to exercise. Cleffy is available on every kind of platform, so enjoy it on your PC, your Tablet or your Smartphone.
Cleffy was born during the Startup Weekend of Ascoli Piceno 2014. At this event, Cleffy and its Team were awarded the winners of Best Idea.
Cleffy allow you to make music in a new way, to learn this art with the same ease with which you listen to it.
Pat Martino, a great Italian guitarist said: "Music has generated all the techniques that I use. But when I sit to learn how to play something, it is not because I want to master a technique. It is because I want to listen how an idea sounds".